Internet in the UK is messed up in it's own original way. Indeed, censorship is mostly voluntary.
The main ISPs in the UK have been getting very busy setting up systems to block access to certain websites. For most of the blocked content there is no legal obligation for ISPs to follow. Well, there is pressure from the current UK government to do so "or else the government will do it".
It's basically a blackmail based "voluntary" censorship deal. ISPs censor their own network, they implement their own systems and the government "stays out". In other words: it all happens without legislation.
This is the worst kind of censorship. Voluntary self censorship motivated by fear of worse.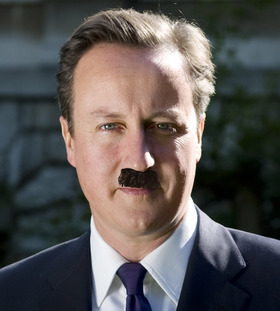 Hitler's moustache with David Cameron's face in the background
This file is licensed under the Open Government Licence v1.0.
It's possible to get around it, by either using a less popular ISP that doesn't block anything (independent ISPs are more and more scarce) or using proxyish solutions (Proxy/VPN/Tor/etc). Those methods will be attacked if they become popular.
The acceptation of this self censorship (by the general public) is made possible by "terrorism" and "save the children" campaigns. The terrorism argument is starting to fade as the NSA files seem to reveal that terrorism is not the reason behind the surveillance, it's control. As for the children, I doubt that blocking sex education sites will help. I'm sure they will fix the filters to let "acceptable content" pass through, though less popular websites will likely be blocked without much notice.
The real question is: Why do "we" accept that private corporations should decide which parts of the Internet should be accessible ? So far, it's almost as if all you need is porn to justify the modern day equivalent of book burning.