One of the Reasons Why I Don't Have a Mobile
Computer Phone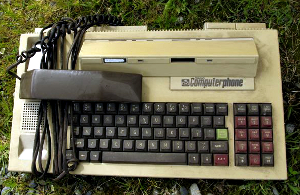 Photo by Samuel Mann - Samuel Mann
Since years I had waited and hoped to get a decent computer phone, yet since they have been made widely available I have not obtained one. Actually I have stopped using mobile phones entirely 2 years ago.
There are many reasons for which I did this, one simply being the fact that I was already always near a computer and/or phone so it wasn't even useful in my case.
One of the other many reasons is simply because of how the mobile phone market has evolved, it's rottener than ever. I've never understood why mobile carriers are the ones who sell the devices.. I do understand how they got there, in the early days people did not want to spend 300$/Euros/GBP for a mobile phone that could also store 10 phone numbers, so they made it easy by creating contracts that included the phone in the cost and made the whole thing seem affordable. Today everyone thinks it's "just how it works".
In many countries, you don't buy a phone and then connect it to a network, you get a bundle. If you want a certain phone you might need to go to a certain network provider... If you want a new phone you might need to upgrade your contract, if you want a new contract you might have to get a new phone.. . I've even seen contracts that offered different phones depending on how many minutes and/or text messages you want to consume !
It makes no sense, it's like buying your laptop from your ISP and having it locked to their network. What next, water that boils only in cookware sold by your water provider ?
I was reminded all this because I read Five years after the iPhone, carriers are the biggest threat to innovation, it's interesting and well written but I wouldn't say that Apple is the defender of the open market, they too build walled gardens and enjoy the benefits of it.