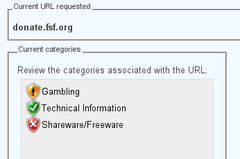 Last week this post on Reddit showed that Microsoft Reputation Service considers donate.fsf.org as a gambling site. This may look like a human error...
Read more.. . ..
Tomorrow, May 4th 2012, will be Day Against DRM. Take a moment to reflect on the devices you perhaps use that may infringe on your digital Freedoms.
The short version is, many digital devices and software are designed to restrict the usage you can ...
Read more.. . ..