We're banning behavior, not ideas.
A truly open, non-censored platform of communication is not sustainable if its...
Read more.. . ..
Seems like Reddit is now in the business of banning certain domains from their website. They have banned URL shorteners, but that is for the obvious reason that url shorteners are bad so everyone is okay with that, however blocking w...
Read more.. . ..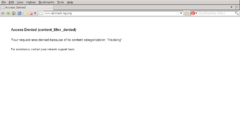 In some coffee shops you can easily get access to the Internet, what they do is just give you the password and voila. Neat right ? Anyway, these other coffee shops, chains to be precise, hire a 3rd party company to do it for them. So the other day I went in to one of them to get a coffee and an ...
Read more.. . ..